Milestones
Our Milestones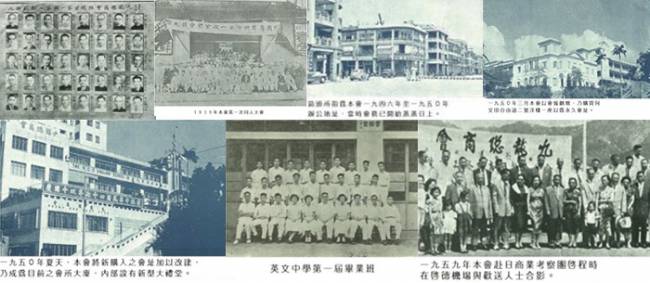 l Since the Second World War, most of our records have been lost or destroyed. What happened before 1945 could only be recorded down by oral history on pioneers.
Early Before KCC
l 1938, Japanese army occupied Guangdong Province, a lot of refugees came to New Territories by walking along the Kowloon–Canton Railway track. Upon watching them suffering hunger and cold temperature, Merchants in Mongkok organizied themselves and helped the refugees.

l 1939, HK government called on the local residents and merchants to participate in the air defence. Most of the Mongkok merchants are kind hearted people, they respond the call tremendously, organized themselves and formed associations.

l At that time, Mr. Mak Chuk Lam's clinic was used as preparation office and formed Mongkok Association of Commerce, later renamed as Mongkok Chamber of Commerce.

l On June 17th, 1939, the chamber moved to Third Floor of No. 504 Shanghai Street, a placed lent out by Mr. Ng Fu.
Formation of KCC

l October 1939, registered members reached as many as 267, including merchants not only Mongkok but also merchants from Yau Ma Tei, Kwun Chung, Tsim Sha Tsui, Sham Shui Po, Kowloon City.

l In order to strengthen the organization, the council renamed the chamber as Kowloon Chamber of Commerce, amended its constitution, and has since been managed by an Executive Council and supervised by a Supervisory Council. It held its first inauguration on 28th December in the same year. Thereafter, the chamber holds its periodical inauguration function on the same day of each alternate year.
Before the War
l Initially before the first anniversary, board directors structure was used within the chamber, in order to facilitate its operation efficiency.

l 28th December 1940, the chamber held the Second General Meeting.

l December 1941, Japanese army invaded Hong Kong. On the 25th, Hong Kong Island and Kowloon were fallen, therefore, chamber's operation was suspended.
Restoration
l August 1945, Japanese surrendered unconditionally. As being the only association with both merchants and residents, the chamber resumed its operation on 12th September.

l At that time, the British Military Administration restored the use of Hong Kong Currency and suspended the Military Currency. KCC setup a Restoration Committee targeted to raise HK$1,000. The committee re-registered the old members for free, carried out a recruitment drive and charged new member for $5.

l Till the Third Election, registered members reached as high as 268. The chamber's constitution was amended and restructured the chamber into Executive and Supervisory Councils.

l The Third General Meeting was held on 28th December, 1945.
Rename to KCC

l In Summer 1946, due to the confine space at Shanghai Street, KCC relocated to the new office at No. 123 Prince Edward Road.

l Next month, recruitment drive was carried out and raised the membership fee.

l Soon after, the chamber's operation expanded and renamed as Kowloon Chamber of Commerce.

l Affiliated associations reached as many as 13.
Expansion
l Till 1948, Permanent and Ordinary Members reached as high as 2,058, while affiliated associations reached 27.

l 1949, members reached 2,250 and affiliated associations reached 31.

l Due to limited space, the chamber purchased a western style house at No. 2 Liberty Avenue, Homantin, with HK$137,500. The house area was more than 5,000 feet square, with 10,000 feet square of garden.

l Same year summer, members reflected that a public hall was lacked for merchants and residents gathering or dinning, thus the Executive Council approved the construction of a new three storeys of grand hall.

l The construction project was tendered out, Tai Chang Construction hit the tender costing $87,500.

l The construction was completed on 23th December 1951.

l Membership reached 2,500, while affiliated associations reached 36.

l Summer 1951, as members the new grand hall was spacious and suitable for education, the council approved to open an English Secondary School to nurture business talents.

l At end of 1951, membership reached 2,655, while affiliated associations reached 39.
Taking a Lead
l As the chamber's reputation rose, connection with foreigners was established, the chamber also conducted exchange and business tour to overseas.

l December 1954, KCC joined International Chamber of Commerce, a step into internationalization.

l Till 1955 December, the chamber had 44 affiliated associations and more 2,700 of permanent and ordinary members.
l Due to shortage of schools in Hong Kong, KCC established a Chinese primary school and kindergarten in 1956.
Reforms
l From a chamber without assets into a commercial organization, the Ninth General Meeting approved to reform into corporation limited for effective management.
l A 28 storeyed K.C.C. building completed its construction in 1984.
Translated by KCC Archives on 2nd March 2017