Speaker Profile: Rossana Llenado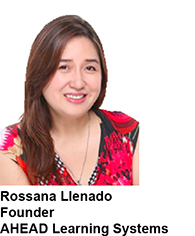 Rossana Llenado founded AHEAD Learning Systems in 1995 and has since then become a recognized and multi-awarded business leader, entrepreneur, marketing practitioner, and educator in the Philippines.
She is among the first Filipino business leaders to receive the Entrepreneur 10 Award of Entrepreneur Magazine and is among the 75 Most Admired Entrepreneurs in the Philippines. Her exceptional entrepreneurial and marketing acumen has also been acknowledged with business awards from the Aurelio Periquet, Jr. Foundation, the Philippine Marketing Association, and the International Association of Business Communicators, among other organizations. In 2012, she was cited as one of the 100 Most Amazing Filipinas by Summit Media.
Ms. Llenado has dedicated her life to improving the quality of the Filipino youth's learning and advocating the importance of education in nation-building. She has been invited by varied organizations to speak about leadership, parenting, education and youth development, as well as entrepreneurship.
An outstanding alumna of the University of the Philippines, Ms. Llenado has also pursued postgraduate studies at the Ateneo de Manila University and the Asian Institute of Management.
She currently runs five companies, one of which is focused on developing an online tutoring service for the international market.