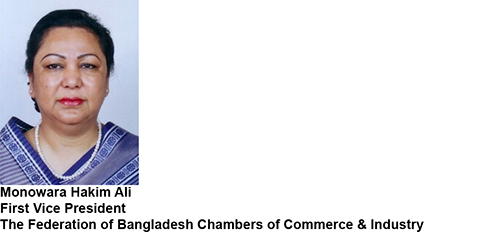 Mrs. Monowara Hakim Ali is First Vice President, The Federation of Bangladesh Chambers of Commerce & Industry (FBCCI). Concurrently, she is Member of the CACCI Executive Committee; Vice President, SAARC Chamber of Commerce; and Honorary Consul, Republic of Indonesia in Chittagong.
Mrs. Ali is holding senior management positions in several corporations, including Chairman, Genetica (Bd) Ltd. and A. Intraco (Bd) Ltd.; Vice-Chairman, Intraco Group and Butterfly Park Ltd.; as well as Managing Director, Matrix Cellular (INTL) Services Ltd. and Medina Indenting Ltd.
At government bodies, she is Director of Dhaka Stock Exchange (DSE), Teletalk Bangladesh Limited, Bangladesh Tele Communication Co. Ltd. (BTCL), Coal Power Generation Co. Bd. Ltd. (CPGCBL), Bangladesh Tourism Board (BTB) and Small & Medium Enterprises Foundation (SMEF). In addition, she is Member of Palli Karma Sahayak Foundation (PKSF).
As an active businesswoman in Bangladesh, Mrs. Ali has established a few business and charity organizations. She is Founder of Chittagong Women Chamber of Commerce & Industry (CWCCI), Chittagong Women Entrepreneurs Association, Chittagong, Indonesia-Bangladesh Chamber of Commerce & Industry, Intraco Foundation, Bhuiyan Foundation, YUSHU Association and Agrabad Kid's Club, Chittagong. Presently, Mrs. Ali is Chairman, Women Co-Operative Society Ltd., Director, Bangladesh Federation for Tourism Development (BFTD) and Member of Governing Body, South East Asian Co-operation Foundation (SEACO).
Mrs. Ali has received numerous awards and honors in recognition of her achievements and contributions, such as Nipa Shishu Foundation Gold Medal in 2000, Moulana Bhasani National Award in 2005, Mother Teresa Gold Award in 2007, Honored as CIP by Government Republic of Bangladesh in 2009, 4th International Women Entrepreneurs Challenges (IWEC) Award in 2010, UNESCO Award-Women Entrepreneurship Development in Bangladesh in 2011, Priyadarshini Award- Federation of Indian Women Entrepreneurs (FIWE) in 2012 and TIAW Global World of Different Award for Women Entrepreneurship Development in 2013, among others.
Mrs. Ali was born in Chittagong, Bangladesh, and she speaks English, Bengali, Hindi and German. She received her Bachelor Degree on Hospitality Management from City of London College, U.K., and was an NDC Fellow at Capstone Course from National Defense College (NDC), Dhaka, Bangladesh.