Speaker Profile: María Pérez-Esteve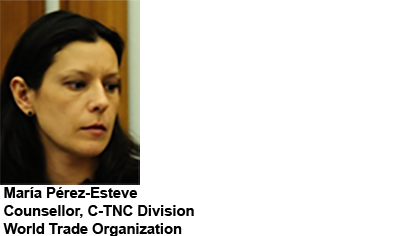 María Pérez Esteve has fifteen years' experience working on international trade issues. Since 2012, she works in the Council and Trade Negotiations Committee Division (C-TNC) at the World Trade Organization (WTO) in Geneva. The C-TNC Division provides assistance and all related services to four of the WTO's key governing bodies: the Ministerial Conference; the General Council; the Trade Negotiations Committee (TNC); and the Dispute Settlement Body (DSB). The Division is the focal point for contacts with the Swiss authorities and carries out technical cooperation activities for WTO Member and Observer Governments. The Division also regularly assists the Office of the Director-General in various tasks, such as preparing briefing notes for the Director-General and providing support for the WTO participation in the G-20.
From 2005 to 2012 she worked in the Information and External Relations Division of the WTO as the coordinator of the WTO Annual Public Forum and focal point for civil society organizations, Parliamentarians from Latin America and business groups. Perez-Esteve joined the WTO in 2002, where she worked in the Agriculture and Commodities Division, providing support to the Committee on Agriculture and the Committee on Sanitary and Phytosanitary (SPS) Measures. She also provided technical assistance to WTO Members on the SPS and Agriculture Agreements, the agriculture negotiations and the WTO in general. Before joining the WTO Perez-Esteve worked for the United Nations Conference on Trade and Development (UNCTAD), advising developing countries on trade, development and environment issues and implementing projects on Standards and Trade in select Latin American countries.
Ms. Perez-Esteve holds a BA in Political Science and French Literature from the University of Illinois and a Master's Degree in Political Science and International Relations from the University of Geneva.