Speaker Profile: Jim Thompson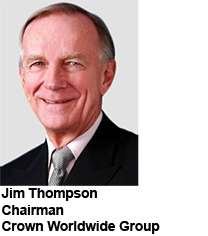 James E. Thompson is the Chairman and Founder of the Crown Worldwide Group of Companies. Crown provides Relocation and Assignment Management Services for many multinational and government organizations as well as the Management of documents and information services for global clients. The company also provides very specialized Fine Arts packing and transportation, logistics services that range from storing and managing wine collections, project management of oil and gas equipment, hotel refurbishments and warehousing and distribution of high-end luxury goods.
The Crown Group is the largest privately owned company in the field of international relocation with 265 worldwide locations in almost 60 countries. Crown is also a leader in the field of document management with 23 million cartons of business documents managed from its worldwide facilities.
Mr. Thompson graduated from San Jose State University with a Bachelor of Science degree in Aeronautical Engineering. He arrived in Asia in 1963 shortly after his graduation and within two years he established the company with US$ 1000 in Yokohama, Japan. He moved to Hong Kong in 1978 where he currently resides. Today, the Crown Worldwide Group employs over 5,000 full-time staff around the world, as well as a large number of contracted personnel. The company has been awarded the prestigious Hong Kong Award for Services in Export Marketing, and received the Hong Kong General Chamber of Commerce Innovative Services Award twice. Crown has also received the DHL/South China Morning Post International Award as Hong Kong's best international company.
Mr. Thompson has been a prominent figure in both the relocation industry and in his adopted home, Hong Kong. His past roles include a Board Member of Ocean Park Corporation; a council member of the Hong Kong Trade Development Council; the Chairman of HKTDC Logistics Services Advisory Committee; a member of the Hong Kong Trade and Industry Advisory Board; and a member of the ICAC Advisory Committee on Corruption. He also served two terms as the Chairman of the American Chamber of Commerce in Hong Kong.
Mr. Thompson is currently a member of many prestigious organizations including the Investment Promotion Ambassador Scheme of InvestHK; the Hong Kong-EU Business Cooperation Committee; Hong Kong-US Business Council; Hong Kong-Japan Business Cooperation Committee; HK University of Science & Technology's (HKUST) Business School Advisory Council; City University of Hong Kong's College International Advisory Board; and many more. Mr. Thompson is heavily involved with various university mentorship programs including HK University, Chinese University and HK Federation of Business Students. He is also a Council Member of the Hong Kong Management Association. He often serves as a delegate representing Hong Kong on numerous Hong Kong Trade Developmen