Speaker Profile: Anthony Tam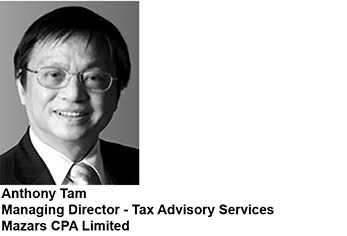 Qualification
Master of Business Administration, University of Toronto, Canada
Bachelor of Engineering & Management, McMaster University, Canada
Member of The Institute of Chartered Accountant, Ontario, Canada
Fellow member of Hong Kong Certified Public Accountants, currently the convener of the China Taxation sub-committee
Background
Anthony has more than 20 years of professional experience in international taxation as well as Hong Kong and China tax, specializing M&A and transfer pricing. He is currently heading the tax practice of Mazars in Hong Kong and Mainland China.
Prior to joining Mazars, Anthony was a Tax Partner of the Greater China practice of a Big 4 firm.
Anthony has a proven track record in transfer pricing in China, he was the advisor to two Bilateral Advance Pricing Agreements ("BAPA"): one of which is a complicated agreement involving export and domestic sales and payment of royalty. Both BAPAs were with Japan.
He received his post-graduate education in Ontario, Canada. As a tax specialist, Anthony has been involved in teaching. He is one of the two course directors of the Advanced Diploma in Taxation offered by the Hong Kong Institute of Certified Public Accountants, ("HKICPA"), which covers Hong Kong, China as well as international taxation. He is currently the Deputy Chair of the Tax Faculty of the HKICPA.