Speaker Profile: Anna Marie Periquet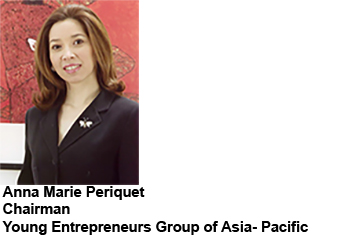 Anna Marie Periquet is the chairman of the Young Entrepreneurs Group of Asia- Pacific (YEG-AP) under the Confederation of Asia-Pacific Chambers of Commerce and Industry (CACCI) from 2004 to present.
She is president of Anna Marie Home Collection, Inc. and Asia Pacific Business Consulting, Inc. She is a member of the boards of Periquet-Kessel Corporation, Initiatrix, Inc., and Flipbook Animation, Inc.
Concurrently, she sits as president of the Aurelio Periquet, Jr. Foundation, established in honour of her late father and a founding member of the CACCI, Dr. Aurelio O. Periquet, Jr.
Ms. Periquet was selected as Asian representative and keynote speaker for the numerous summits and conferences including the Council on Access to Information on Business Regulations of the Asia Pacific Rule of Law under The World Justice Project held in Malaysia; The Philippine Experience in Entrepreneurship Working Hand-in-Hand in Advancing Philippine and Chinese Economies During the Women Leadership in Post- Crisis Era Summit held in China; Tokyo Entrepreneurs Summit held in Japan, just to name a few.
Ms. Periquet is the recipient of several citations and awards from various organizations. She was awarded by the Department of Education of the Republic of the Philippines for her achievement as Principal Author of Republic Act 8525 or the Adopt-a- School Law in 2012. She was cited and featured in GO NEGOSYO: 55 Inspiring Stories of Women Entrepreneurs. She was cited as one of the 100 "Women Who Take the Lead: Profiles of Women Who Have Shaped Philippine Society." She was cited as one of the "100 Most Successful Women in the Philippines" in celebration of Women's Day Centennial. She was awarded the 2006 Distinguished Woman of Service Award.