Speaker Profile:Selima Ahmad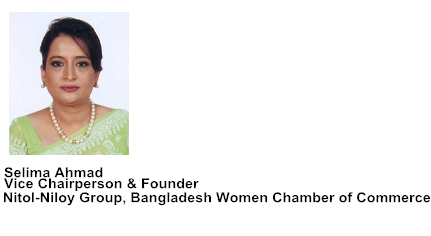 Selima Ahmad, Founder of Bangladesh Women Chamber of Commerce and Industry and Vice Chairperson of Nitol-Niloy Group is the developing world's personification working for the private sector development for last 28 years. With her deep understanding of business, she focused on developing entrepreneurial talent, organizing financial and marketing resources to enable women get over hurdles. She founded BWCCI in 2001 to empower women into businesses and developed more than 7,000 women entrepreneurs.
Her dynamic advocacy for women entrepreneurs' access to credit resulted in collateral free loan at low interest by central bank and created separate allocation of US$ 12.88 million in national budget. Ahmad is an activist who promotes democracy, gender equality, anticorruption and women entrepreneurship.
Ahmad is in the board of Sonali Bank, the largest public commercial bank of the country and the key person of Women Democracy Network's Bangladesh chapter. She is a Global Ambassador of The International Alliance for Women (TIAW) and also teaches Entrepreneurship Development in a renowned private university in Dhaka. She is the board member of SME foundation. She also acts as mentor for women around the globe.
She has been awarded with the prestigious Oslo Business for Peace Award 2014. She received Jeane J. Kirkpatrick Award 2013, Islamic Development Bank Prize 2012, Priyadarshini Award 2012, TIAW World of Difference Award 2010 for her accomplishments. Among many others, she has also been awarded with the title of best female entrepreneur in Bangladesh by different organizations and best women achiever, 2005, 06 by Consortium of Women Entrepreneurs of India. Recently TIAW (The International Alliance for Women) has announced Selima Ahmad as the "2014-2015 TIAW World of Difference Lifetime Achievement Award" recipient.
She obtained her graduation and Masters in Business Management from University of Dhaka and did many short courses from USA, Japan, Denmark and Canada. She is a fellow of Stanford University, USA.