Speaker Profile: R. B. Rauniar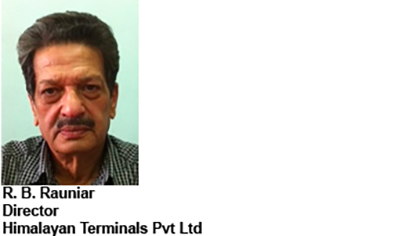 "Unlocking land-locked countries through the potentials of land- linked countries for the regional economic upliftment" is the strong belief of Mr Rauniar. Logistics transport and trade facilitation are synonymous to Mr R B Rauniar. He is an institution in himself in these fields and has been deeply contributing his vast knowledge for the regional growth in transport and trade. He has vast experiences with over four decades in the fields of multimodal transport, customs, transit, trade facilitation, shipping and international freight forwarding. He is very well known to the shipping fraternity in the whole of South Asia.
His expertise and contributions in the National and International arena are very well known as the consultant and advisor to the World Bank, ADB, UNCTAD/UNESCAP, JICA, SAARC, etc in his respective fields. He has been regularly participating in high level seminars & international conferences as panelist, speaker, presenter on transport, transit & trade facilitation issues.
He is actively involved as Member of the Working Group of Nepal Business Forum (NBF), Chaired by the Prime Minister of Nepal, looking after Export Promotion and Trade Facilitation and member of Joint Economic Council (JEC) of FNCCI & CII for promotion of Nepal India Trade & Investment.
He has taken up challenging high level positions as Chairman, President, Executive Member in various apex business organizations of Nepal including FNCCI, Nepal Chamber of Commerce, Nepal Goods Carriers Association, Nepal Freight Forwarders Association, Nepal India Chamber of Commerce & Industry, etc.
He is the Director of Himalayan Terminals Pvt Ltd, the Terminal Management Company of the first and only rail based ICD/Dryport Birgunj, which is handling over 65% of Nepal's trade traffic. He is the Managing Director of Interstate Multi-Modal Transport Pvt Ltd, the largest project cargo forwarder and the first and the only Multimodal Transport Operator (MTO) of Nepal.
He is highly committed to standardisation, harmonisation, simplification of processes and rules & regulations so that it helps to remove non-tariff barriers and facilitate trade in general. He has also authored several articles related with Transit, Transport and Trade Facilitation.