Speaker Profile: Naoyuki Yoshino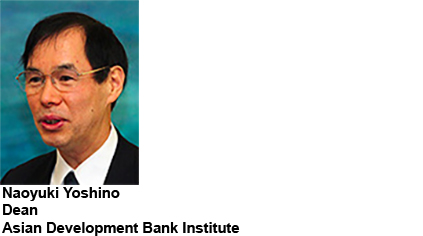 Naoyuki Yoshino is dean of the Asian Development Bank Institute (ADB Institute); professor emeritus of Keio University, in Tokyo, Japan; and senior adviser at the Japan Financial Services Agency's (FSA) Financial Research Center (FSA Institute).
He obtained his PhD from Johns Hopkins University in 1979, where his thesis supervisor was Sir Alan Walters (who was Margaret Thatcher's economic adviser). He was a visiting scholar at the Massachusetts Institute of Technology (United States) and has been a visiting professor at various universities including the University of New South Wales (Australia), Fondation Nationale des Sciences Politiques (France), and University of Gothenburg (Sweden).
He was an assistant professor at the State University of New York at Buffalo and an economics professor at Keio University from 1991 to 2014. He was appointed chair of the Financial Planning Standards Board in 2007, and also served as chairperson of the Japanese Ministry of Finance's Council on Foreign Exchange and its Fiscal System Council (Fiscal Investment and Loan Program Section).
He was also a board member of the Deposit Insurance Corporation of Japan, chairperson of the Meeting of Japanese Government Bond Investors (Ministry of Finance), and was president of the Financial System Council of the Government of Japan.
He was conferred honorary doctorates by the University of Gothenburg (Sweden) in 2004 and by Martin Luther University of Halle-Wittenberg (Germany) in 2013; he also received the Fukuzawa Award for his contribution to academic research in 2013.