Speaker Profile: Martin Murray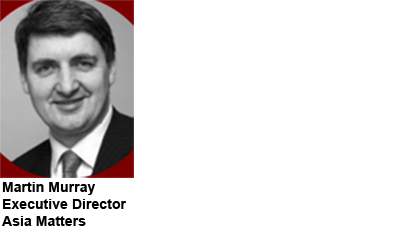 Martin Murray is Executive Director of Asia Matters,an independent, not for profit economic institute which is building dynamic Asia Europe business links from a Dublin base. Martin is the Honorary Consul of Indonesia in Ireland and has worked in Europe as Chief Executive of The Association of Compliance Officers in Ireland ( Financial Services) , IBM Global SmartCamp Mentor, and as Partner in UK and Ireland for the EU Japan Centre for Industrial Cooperation.
He previously lived in Japan where he worked as Chief Executive of Canning Communications UK , Adviser in the International Economic Affairs Bureau of Nippon Keidanren – Japan Business Federation and as Strategic Adviser for Japan National Tourism Organisation. Martin is a member of the International Advisory Committee of Dublin City Council and works in developing strategic business outcomes from the Beijing Dublin city twinning.
He has been a Guest Lecturer in Regulation, Corporate Governance and Ethics in Financial Services to the Executive MBA students at University College Dublin and has lectured on BRICs, China and Indonesia to Trinity College Dublin. Martin is an active volunteer in helping charities in Asia working with children traumatised by natural disasters.