Speaker profile: Joseph Yung Sai Bun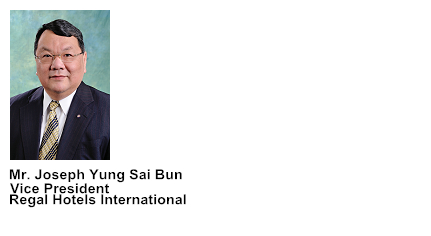 Mr. Joseph Yung Sai Bun, Vice President – China, joined Regal Hotels International back in 1995. A graduate from The University of Hawaii majoring in Hotel & Restaurant Management, Mr. Yung is recognized as Certified Hotel Administrator (CHA) by American Hotel & Motel Association. Mr. Yung also obtained other professional recognitions including Foodservice Management Professional (FMP) awarded by Educational Foundation of the National Restaurant Association and Member of Hotel & Catering International Management Association (MHCIMA).
Mr. Yung joined hotel industry since 1974 and has extensive operation experience covering Rooms division, Food & Beverage as well as projects. He had worked for different hotel groups including Pousada de Sao Tiago and Hyatt Regency in Macau, Monarch Lee Gardens Hotel Bangkok, Garden Hotel Guangzhou, four hotels managed by Lee Gardens International and Regal Riverside Hotel in Hong Kong.
Mr. Yung is now responsible for the Group's new hotel projects such as new restaurants, new hotels as well as monitoring the operations and development of China projects.