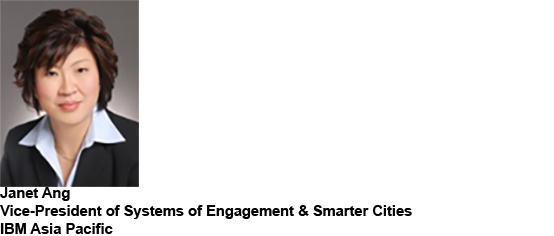 Janet Ang is the Vice-President of Systems of Engagement & Smarter Cities, IBM Asia Pacific, covering Australia & New Zealand, India, ASEAN and Korea.
Janet is responsible for helping governments and organizations improve, integrate and add intelligence to systems such as transportation, public safety, water, energy, buildings, towns, citizen engagement and urban management that contribute toward achieving sustainable economic and human development.
Prior to this role, Janet was the Managing Director of IBM Singapore from 2011 to 2015 where she led the operations of IBM Singapore including all product and services divisions as well as the company's sales and distribution business. She was the Chief Representative of IBM in all client relationships and government affairs in Singapore.
Before returning to IBM in 2011, Janet was based in Beijing for over eight years. She was Vice President, IBM Personal Computing Division from 2004 before moving to Lenovo in May 2005 as Global Head of Operations Desktop BU, and then returning to IBM Greater China in 2009 to serve as Vice-President, IT Services until June 2011.
In her 33 years at IBM, Janet has held various management positions in IBM - Managing Director, IBM Singapore (2001 to 2003), Director, Sales Operations, IBM Asia Pacific (1999-2001), Director, Marketing, IBM Asia Pacific Small & Medium Business Unit (1998-1999), Public Sector, General Manager, IBM ASEAN (1995-1997).
Janet actively serves on various committees in the community. She sits on the board of the Public Utilities Board (PUB), the InfoComm Development Authority (iDA), the NUS Institute of Systems Science (ISS), Singapore Press Holdings (SPH) and Caritas Singapore. She is also a member of Business China, the National University of Singapore Alumni Advisory Board and the Women's Health Advisory Council (WHAC), and is President of the International Women's Forum (Singapore chapter).
Janet holds a Business Administration (Honors) degree from the National University of Singapore. She is happily married with four daughters.