Speaker Profile: Chandula Abeywickrema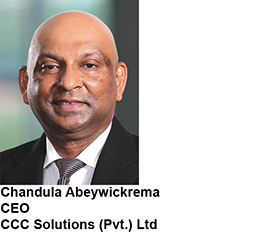 Chandula Abeywickrema CEO of CCC Solutions (Pvt.) Ltd, a specialized arm of Ceylon Chamber of Commerce to concentrate solely on projects.
Prior to joining CCC Solutions, he was Deputy General Manager – Marketing & Retail Banking of Hatton National Bank,
In the last decade, Mr. Abeywickrema has earned a reputation in Asia as an Expert and a Specialist in creating financial solutions in Microfinance and Financial Inclusion He is the current Chairman of the Banking With The Poor Network, which is Asia's largest Microfinance network based in Singapore. He travels widely and has been invited to many major financial inclusions and Microfinance Forums as an Expert in the industry as a Specialist Keynote Speaker.
He was invited by the Harvard Business School in the year 2009 to speak at the Harvard Asia Conference on Financial Inclusion in the Asian Context. He also serves as the Team Leader for Financial Inclusion of the Asian Bankers Association.
Mr. Abeywickrema is also the Chairman of Lanka Financial Services for Underserved Settlements, which is a joint venture between UNHABITAT & the Government of Sri Lanka, a major initiative to create access to banking for low income groups for housing. He also serves as Chairman of Splendor Media, which is one of the largest media houses in Sri Lanka.
He has recently been invited to serve in the Expert Advisory Board of the YouthSave based in Washington. YouthSave is a joint collaboration between Save the Children Centre for Social Development USA, the New America Foundation – Washington and CGAP & MasterCard Foundation, USA. Chandula will be among the ten member International Advisory Board.
The first of its kind project, YouthSave is designed to find new ways to help low- income youth adopt behaviours that will lead to long-term health and productivity. The project draws its rationale from a growing body of evidence which suggests that helping youth build savings in formal financial institutions may be a high-leverage method for contributing to these goals. In addition, bringing young people into the formal financial system could accelerate the pace of financial inclusion, with the potential to increase client financial capability levels and improve sustainability prospects for financial institutions serving the low-income market.