Speaker Profile: Bryan Clark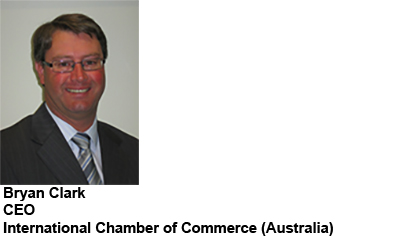 Bryan's responsibility and expertise is to develop and advocate policies which result in positive outcomes for ACCI's member network, Australian business, employees and the community in relation to trade and international affairs.
Bryan also provides a link to the International Chamber of Commerce (Australia) of which he is the CEO.
Bryan has previously worked for a wide range of agricultural industry representative bodies along with experience in private industry and consulting, particularly in the fields of industry development and capacity building, natural resource management and regional food industry promotion.

Skills and experience:
o National and international policy development and advocacy on issues such as:
Trade policy
International climate change policy
Natural resource management policy
o Industry representative body operation and governance

Positions held:
o CEO, International Chamber of Commerce (Australia)
o Standards Australia International Policy Advisory Committee (IPAC) member
o Standards Australia's consumer policy committee (ISO COPOLCO Mirror Committee) member
o Australian Customs and Quarantine Inspection Service, National Consultative Committee member