Speaker Profile:Audrey Winsome Tang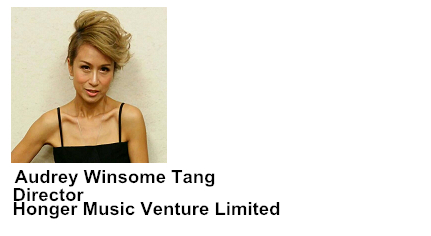 Graduated from the Communications Department of Hong Kong Baptist University, majoring in public relations and advertising.


Joined Radio Television Hong Kong (RTHK) before high school graduation and voted the most popular disc jockey in Hong Kong ; also served as part-time host of variety programs on Asia TV, and researcher/script writer of the international music information program. Was back then the youngest Program Officer at RTHK, in charge of program production, project planning and promotion, and actively trained new generation of radio talents.

Became Assistant General Manager of Warner Music International HK Ltd. , taking charge of international repertoire and music publishing affairs in the Asia-Pacific region, after 10 years service at RTHK.

Then joined Metro Broadcast (subsidiary of Hutchison Group) to pursue corporate communication work.

Appointed by a HK listed company as Financial Communications Manager and Assistant to the Chairman after serving 2 years in Metro Broadcast.

Founded own financial marketing business committed to the planning and implementation of customized market promotion and financial public relations for Initial Public Offerings.

Then worked as consultant for management of projects, enterprises and performance celebrities.

Had been member of Hong Kong United Youth Association for 4 years.

Is still holding jobs as corporate event MC, drama actor, radio DJ & advertising voice over talent.

Presently , Director of Honger Music Venture Limited.